By now it's probably no secret that fresh pomegranates are nutritional powerhouses, packing vitamin C, fiber, and various antioxidants. What about pomegranate powder, though? Do these benefits carry over once the fruit is freeze-dried and pulverized into a powdery substance? More importantly, is there any real benefit of pomegranate powder aside from its flavor?
As it turns out, the main benefit of pomegranate powder is that it contains ellagic acid — a natural antioxidant phenol found in pomegranates and various fruits and vegetables. That aside, most of the benefits of fresh, whole pomegranates (such as fiber and vitamin C) are stripped away during processing.
Let's have a greater look in more detail.
What Is Pomegranate Powder?
Pomegranate powder is made by extracting the juice from the seeds of the pomegranate fruit and then freeze-drying it. Once freeze dried, it is then pulverized into a powdery form and packaged for consumption.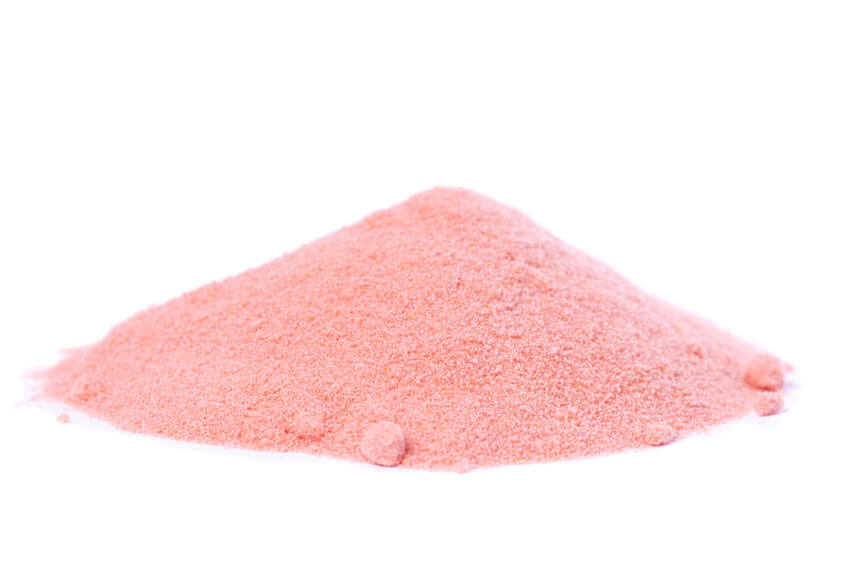 Pomegranate powder, for the most part, is marketed as a health food supplement. It can be located in various supplement shops or in the health and beauty department of grocery stores and retail marketplaces.
Additionally, it can also be located in the baking section of some Walmart stores as it is commonly used as a baking ingredient as well, due to its naturally sweetness and flavor.
How It's Used
One benefit of pomegranate powder is how versatile it is. Here are some of the ways in which it can be used:
Stirred into water or juices to add sweetness and flavor
Added to smoothies
As a natural sweetener in baking recipes
Added to yogurt parfaits to add sweetness and a fruity flavor
Added to protein powder for flavor
As a natural sweetener for herbal teas
What It Tastes Like
As you would imagine, the flavor of pomegranate powder is consistent with that of the pomegranate fruit, although it may be more intense due to how concentrated it is. The same can be said for its sweetness.
Storage
Pomegranate powder does not require refrigeration. However, it is recommended that it be kept in a cool, dark and dry place.
Nutrition Facts
Let's have a look at the nutritional contents of pomegranate powder.
The follow is the nutrition facts label for the Navitas Organics brand — one of the most-reviewed pomegranate powder products on Amazon.com:
| | |
| --- | --- |
| Item | Pomegranate Powder |
| Serving Size | 2 tsp (5g) |
| Calories | 20 |
| Total Carbohydrates | 5g |
| Total Sugar | 1g |
| Added Sugar | 0g |
| Dietary Fiber | 0g |
| Total Fat | 0g |
| Protein | 0g |
| Sodium | 0mg |
| Vitamin D | 0mcg |
| Calcium | 2mg |
| Iron | 0mg |
| Potassium | 18mg |
Source: https://navitasorganics.com/
As evident, there really isn't much here to get excited about. Although it contains no fat, sodium, or added sugar, it also lacks the fiber and vitamin C that pomegranates contain in their whole food form. This is likely due to processing.
What Is The Benefit Of Pomegranate Powder, Then?
After looking at the nutrition facts label one may wonder if there even is a benefit of pomegranate powder. Let's have a look at some of the benefits that you won't see on the label.
It Contains Ellagic Acid
Possibly the biggest nutritional benefit of pomegranate powder is that it contains ellagic acid — a natural antioxidant phenol commonly found in fruits, such as pomegranates. Studies have shown that ellagic acid may decrease cancer growth, according to the Healthline website. Furthermore, the Memorial Sloan Kettering Cancer Center website suggests that it may also be beneficial in lowering LDL cholesterol.
It should be noted, however, that the study in question used freeze-fried strawberries to source ellagic acid rather than pomegranate powder.
Additionally, research in this area is somewhat limited, with much of it having been conducted on mice.
That said, just a single 2 tsp serving of pomegranate powder provides 2.1mg of ellagic acid, according to the Nativas Organics website.
It Can Be Used As A Natural Sweetener
Nutritional benefits aside, pomegranate powder's greatest usage is as a natural sweetener. The powder can be used to add fruity flavor and sweetness to various beverages and recipes.
It can also be used as a substitute for table sugar. And unlike table sugar, you'll have the added benefit of its natural antioxidants.
Contains No Additives
Finally, pomegranate powder contains no additives, although it is minimally-processed.
Most supplemental powders tend to have added ingredients and preservatives. For those seeking a natural alternative, pomegranate powder is a great candidate.
The Bottom Line
Although it may not pack the nutritional punch of other supplemental powders — such as spirulina or chlorella — that doesn't mean you can't enjoy the other benefits of pomegranate powder, such as its delicious taste.