Fettuccini, spaghetti, angel hair, linguini, vermicelli…when it comes to delicious pasta, the options are endless and the toppings are delicious! Unfortunately, pasta isn't necessarily a health food, especially for those who eat a gluten-free or low-carb diet. Today we're going to compare zucchini noodles vs pasta (and since we're PlantBasedFAQs, you can guess which one we're rooting for!)
In short, the primary difference between zucchini noodles vs pasta is that zucchini noodles provide from a more nutritionally-dense, gluten-free alternative that is significantly lower in calories. However, they no not emulate the taste, texture and consistency as well as other pasta alternatives do.
Does Zucchini Really Make Good Pasta?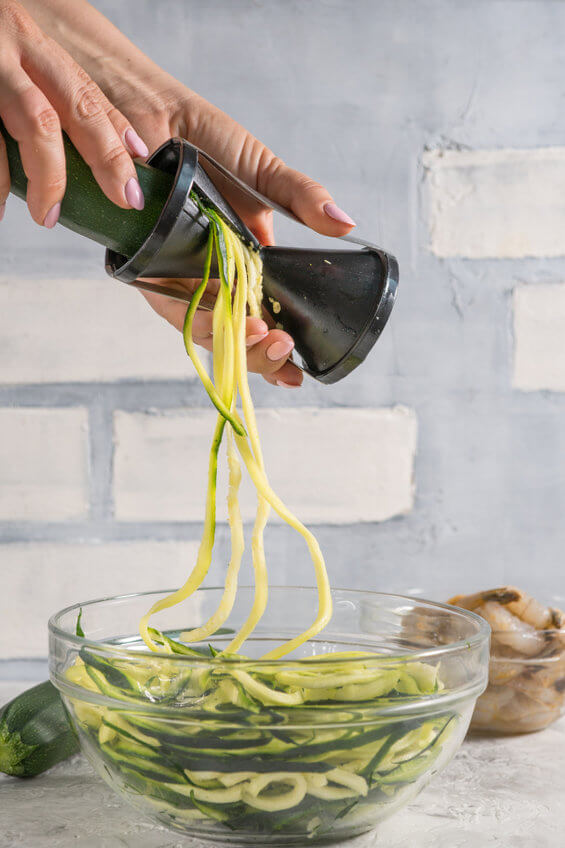 The short answer is yes—amazingly enough, the green squash that dominates summer gardens makes a fantastic substitute for our favorite carb-heavy traditional pasta.
The name for that squash, zucchini, is derived from the word "zucchina" that comes from the birthplace of pasta (Italy, of course!) Whether you call it zucchina, zucchini, or the British English "courgette," the truth is the same: this nutrition-packed veggie is delicious!
The origins of zucchini noodles, sometimes referred to as "zoodles," are unclear, however, they experienced a rapid rise in popularity in the last decade.
While you can buy countertop kitchen appliances that make it easy to turn your zucchini into long strands of pasta-like goodness, you can now also find them in the fresh-cut vegetable section of many grocery stores. Or, if you're in a pinch, you can also make your zucchini noodles the old-fashioned way by creating long strips of zucchini with your mandolin slicer or potato peeler.
Zucchini Is Both Nutritious and Delicious
Zucchini noodles are a great option for just about any restrictive diet. Are you eating low-carb, keto, or Atkins? There are only 3 grams of carbohydrates in every cup of cooked zucchini. Are you eating a low-fat diet? Zucchini has less than a gram of fat (0.36 grams, to be exact) per cup.
Perhaps you're restricting your calories, cutting, or just wanting to save your allotted calories for more alfredo sauce? A full cup of zucchini has only 17 calories.
While regular pasta like spaghetti is low fat (1.3g per cup), it is also high calorie (221 cal per cup) and high carb (43.2 grams per cup.) This makes it a poor choice for low-calorie and low-carb diets.
It should be noted that regular pasta has a higher protein content (8.1 grams of protein per cup, compared to zucchini noodles 1 gram per cup) which could be of benefit to anyone looking to increase their carb intake.
When you compare the ease of eating zucchini noodles vs pasta on a restrictive diet, zucchini noodles are the clear winner!
Zucchini Noodles Are Naturally Gluten-Free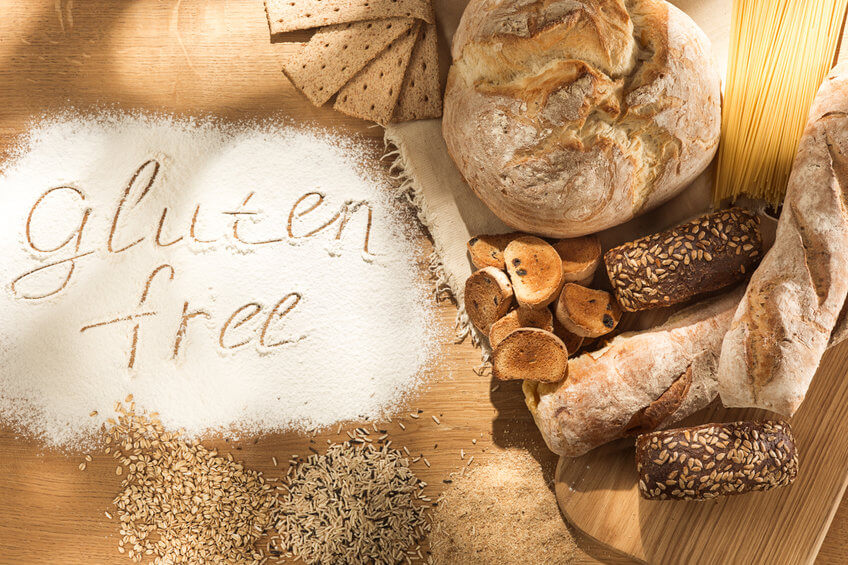 If you're eating gluten-free, you know how hard it is to find substitutes for your favorite carbohydrates that maintain a similar taste and texture profile. Many gluten-free breads and pastas are dense, gritty, nutty, and overall unsatisfying.
Before giving up on pasta altogether, you have to try zoodles. When it comes to gluten-free zucchini noodles vs pasta substitutes, zucchini noodles are a far better choice.
They're naturally gluten-free, and they don't have any strange or unusual tastes or textures. Actually, zucchini noodles have a very similar texture to "regular" pasta, which is why they've become so popular in recent years!
No Need to Enrich These Noodles
Another thing to consider about zucchini noodles vs pasta is that while traditional pasta is often enriched with an added blend of vitamins and minerals, zucchini needs no help—as a vegetable, it already has a lot of vitamins and minerals "built-in."
Most impressively, one serving of zucchini contains 40% of your daily recommended intake for vitamin A (important for vision, reproduction, and a healthy immune system.) You'll also find relatively high amounts of manganese, vitamin C, potassium, magnesium, as well as vitamin K, folate, copper, phosphorus, vitamin B6, and thiamine.
Did You Know Noodles Could Be Hydrating?
Well, zucchini noodles, that is. Zucchini is 95% water, which is part of why these noodles can be low-carb, low fat, and still pack a nutritional punch. Including foods that have a high water content in your diet is a great way to up your daily hydration status.
This makes zucchini noodles a great choice, especially after a workout or on a hot day.
Zucchini Noodles Are Super Easy To Eat
There is no shortage of ways to eat zucchini noodles.
Don't have time to cook them? That's okay! Just toss zucchini noodles with a vinaigrette to make a tasty summer salad.
Making a stir-fry? No need to cook your noodles in advance, just make your sauce and sauté any veggies, then add the "zoodles" at the end for just a few minutes until they're warmed through and al dente!
Short on time and don't want to boil a pot of water? Zucchini noodles can easily be microwaved. Just one minute in a microwave-safe bowl and you're ready to add your toppings.
Trying to make lasagna, but don't want to spend all day in the kitchen? Since you don't have to pre-cook them, zucchini noodles will help you get your lasagna in the oven faster.
Zucchini Noodles VS Pasta: Who Wins?
Let's have a look at how the two stack up nutritionally.
A single 1-cup serving of zucchini noodles contains:
Calories: 20
Total Fat: 0.4g
Total Carbohydrates: 3.7g
Fiber: 1.2g
Protein: 1.4g
Potassium: 308mg
By comparison, a single 1-cup serving of dry spaghetti contains:
Calories: 210
Total Fat: 0.9g
Total Carbohydrates: 42g 
Fiber: 1.8g
Protein: 7.4g
Potassium: 126mg
As you can clearly see, zucchini noodles have significantly less calories than traditional pasta noodles do. This is because zucchini noodles are made from a vegetable, whereas regular pasta is made from starchy grains that are more calorically dense. This makes zucchini noodles a better alternative for anyone looking to reduce caloric intake and/or follow a low-carb (or "ketogenic") diet.
I don't think it's too hard to tell which contender wins this imaginary pasta showdown, although nothing could ever quite fully replace the delicious guilty pleasure that is "regular" pasta.
Sometimes it's okay to indulge in a bowl full of carb-heavy goodness, but the rest of the time zucchini noodles are a great dupe for the real thing.
Zucchini noodles are friendly for almost any restricted diet, low calorie, low carb, naturally gluten-free, easy to cook, easy to eat, similar in taste and texture to the "real thing," and high in nutritional content. No matter how you slice it, zucchini noodles are a worthy alternative pasta.
A Few Zucchini Noodle Tips
If you're making your own noodles, make sure you look for zucchini that are firm and have glossy skin. (Don't bother buying zucchini that is rubbery, flexible, soft, or turning brown.)
Don't bother peeling before making your noodles, as the skin contains many of the nutrients and doesn't change the flavor at all.
After you make your noodles, it is recommended that you put them in a colander and salting them to draw out excess moisture, resulting in a much firmer noodle. It's not recommended to freeze zucchini noodles, as they will thaw into a mushy mess.
After you've made your noodles, they will last in the fridge for 3-4 days!