When it comes to comfort food, there are few options better than pasta. Maybe you're not seeking comfort though; maybe you're seeking a healthier, gluten-free alternative, like cauliflower pasta. In this post we'll be exploring the differences between cauliflower pasta vs regular pasta and why you may want to consider it as an alternative.
Whether you like a simple spaghetti aglio e olio, you prefer your noodles smothered in zesty marinara, or you dream of creamy carbonara, the starchy treat that is pasta soaks up the flavors of your favorite sauces and warms you to the core, providing the feelings of comfort and satisfaction that remind you of home.
Unfortunately, traditional pasta isn't necessarily the healthiest choice for frequent consumption, thanks to a high carb count and gluten that may not suit some modern diets.
Demand for alternatives has led to the production of all kinds of pasta substitutes made from other grains like quinoa, as well as lentils, chickpeas, and more. There are also veggie versions, including pasta made from cauliflower.
While the idea of eating veggies masquerading as pasta is certainly intriguing from a health standpoint, you may naturally be concerned about practical considerations like texture, taste, and preparation. Plus, you might be surprised to learn that alternative pastas can be nutritionally comparable to classic grain-based pastas.
What's the skinny on cauliflower pasta vs regular pasta though? Here are a few things to consider before making a switch.
Types Of Pasta
The average person can probably identify a wide range of different noodle types:
Spaghetti
Linguini
Macaroni
Stuffed pastas like ravioli and tortellini
And more
What you may not know for sure is what's in pasta, and until you find out, you can't really make an informed decision between cauliflower pasta vs regular pasta.
Traditional Wheat-Based Pasta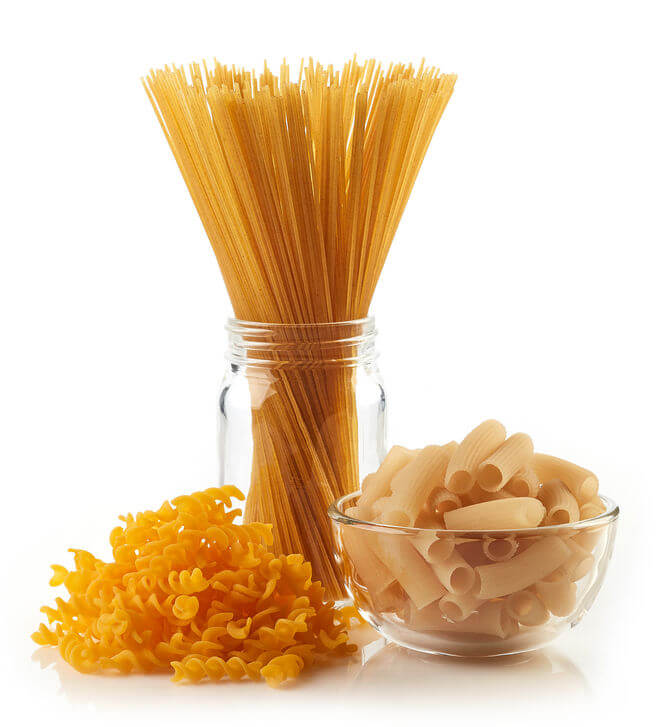 Typically, pasta is made with durum wheat, which is ground into a coarse flour called semolina.
Often, this flour is refined, which means the bran and germ are removed, along with a lot of nutrients. However, you can find products that have been enriched to add some nutrients back in, as well as whole grain versions.
The Nutritional Pitfalls of Wheat Pasta
Because the pasta you find in the grocery store is generally made with white flour, it tends to be high in carbs and low in fiber, which means it's not considered particularly healthy.
That said, studies have shown that it can be included as part of a healthy diet, as long as consumers limit portion size and consider the fat and sugar content of added sauces.
If you choose whole grain wheat pasta, you'll enjoy more fiber and nutrients.
Cauliflower Pasta
As you may have guessed, cauliflower pasta is made not from wheat, but from the cruciferous vegetable for which it's named.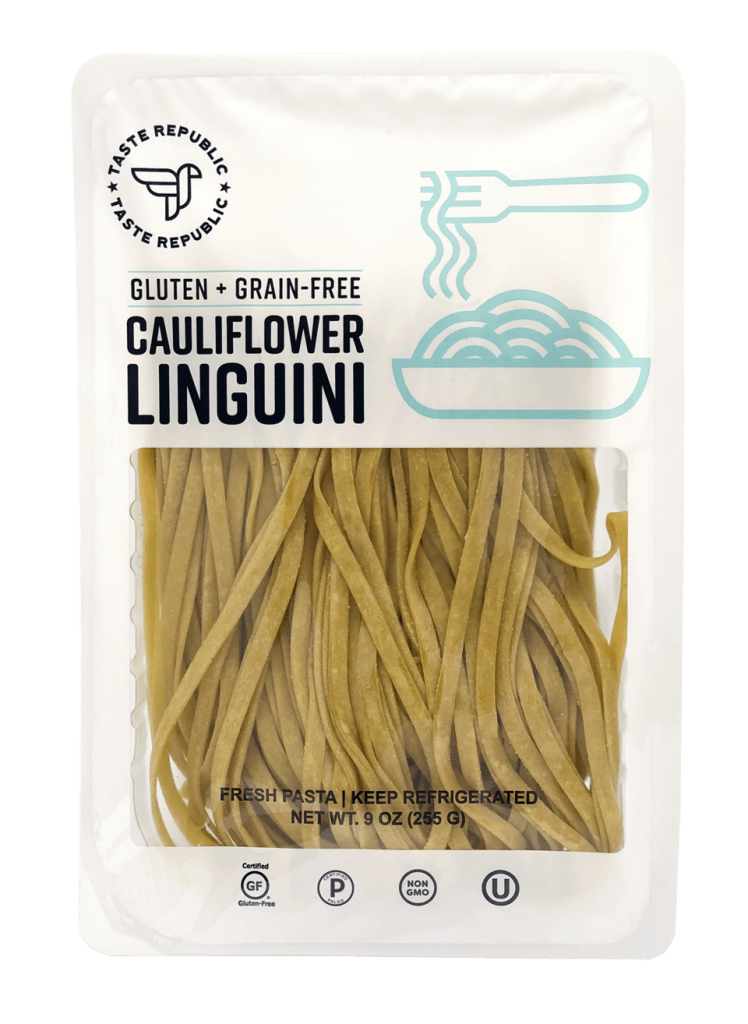 This pasta is made with dried cauliflower powder, typically paired with gluten-free flour, to ensure a firm end product similar to regular noodles.
When it comes to cauliflower pasta vs regular pasta, consumers might expect a mushy noodle after cooking, as with some other veggie pastas. However, whether you purchase this pasta in-store or you make your own at home, you'll find that proper draining to remove moisture is the key to achieving a product comparable to regular pasta.
Cauliflower Pasta vs Regular Pasta
Let's take a closer look at how the two types of pastas stack up.
Nutrition
Using vegetables instead of wheat for pasta will eliminate gluten, but before you assume it's an overall healthier option, it's a good idea to understand what you'll get when you eat different kinds of pasta:
With one cup of cooked, refined/enriched wheat pasta, like spaghetti, you can expect:
220 calories
8.1g protein
43g carbs
2.5g fiber
1.3g fat
23% RDI (recommended daily intake) manganese
53% RDI selenium
26% RDI thiamin
26% RDI folate
You'll also find small amounts of copper, phosphorus, and magnesium (less than 10% RDI each), as well as 12% RDI niacin and 11% RDI riboflavin.
By comparison, one cup of cooked whole-wheat spaghetti contains:
174 calories
7.5g protein
37g carbs
6g fiber
0.8g fat
97% RDI manganese
52% RDI selenium
It also offers 10-12% RDI each of copper, phosphorus, magnesium, and thiamin, and less than 10% RDI each of folate, niacin, riboflavin, and iron.
How does cauliflower pasta stack up? In one cup of cooked cauliflower pasta from Ronzoni, you'll find:
200 calories
5g protein
44g carbs
1g fiber
1g sugar
1g fat
25% RDI niacin
20% RDI folic acid
It also has less than 10% RDI of potassium and iron.
This particular brand of pasta lists rice flour as the main ingredient, followed by dried cauliflower powder, fava flour, and mono and diglycerides.
By comparison, the gluten-free cauliflower linguini from Taste Republic (found online or at some Costco locations) lists cauliflower powder as the first ingredient, followed by water, potato starch, tapioca starch, whole egg, egg white, and xanthan gum. In one cup of cooked pasta, you'll get:
153 calories
6.6g protein
30g carbs
2.6g fiber
3.3g sugar
1.7g fat
It also has less than 10% RDI vitamin D, calcium, iron, and potassium.
Whether you purchase cauliflower pasta in-store or you make your own, chances are it will be mixed with some kind of gluten-free flour to ensure taste, texture, and cooking instructions similar to regular pasta.
As you can see, this also amounts to a fairly similar calorie count and comparable amounts of carbs, fiber, and so on, although there's definitely an improvement in calories and carbs when cauliflower is the first ingredient.
The big difference, of course, is the lack of gluten.
Although the variance in terms of nutrition seems to be relatively minor between regular and cauliflower pasta, the latter definitely offers a great option for anyone following a gluten-free diet. It's especially desirable for those with Celiac disease, who must avoid gluten entirely.
Preparation
When choosing between cauliflower pasta vs regular pasta, practical considerations like preparation are important.
One of the biggest draws of store-bought pasta is that it's so easy to make. With zero prep time and a pot of boiling water, you can create perfectly cooked pasta in as little as just a few minutes, making it a great option for busy individuals or families.
You'll find that there's little difference when it comes to cooking cauliflower pasta vs regular pasta. The Ronzoni spaghetti mentioned above calls for 9 minutes cooking time in boiling water to create al dente pasta.
The Taste Republic linguine need only be cooked for 2-3 minutes (as a fresh/refrigerated pasta, versus dry pasta products).
Taste
One reason cauliflower pasta is gaining popularity as an alternative to traditional wheat pasta, aside from offering up servings of veggies with every cup, is that it tastes an awful lot like the real deal.
According to reviews of the Taste Republic linguine, the flavor is virtually indistinguishable from regular pasta.
It cooks up the same and you can easily substitute it for wheat-based pasta in your favorite dishes. You'll have no trouble whipping up spaghetti Bolognese or baked ziti, or if you want something fancier, like linguine with clams, there's nothing holding you back from choosing cauliflower pasta instead of your regular fare.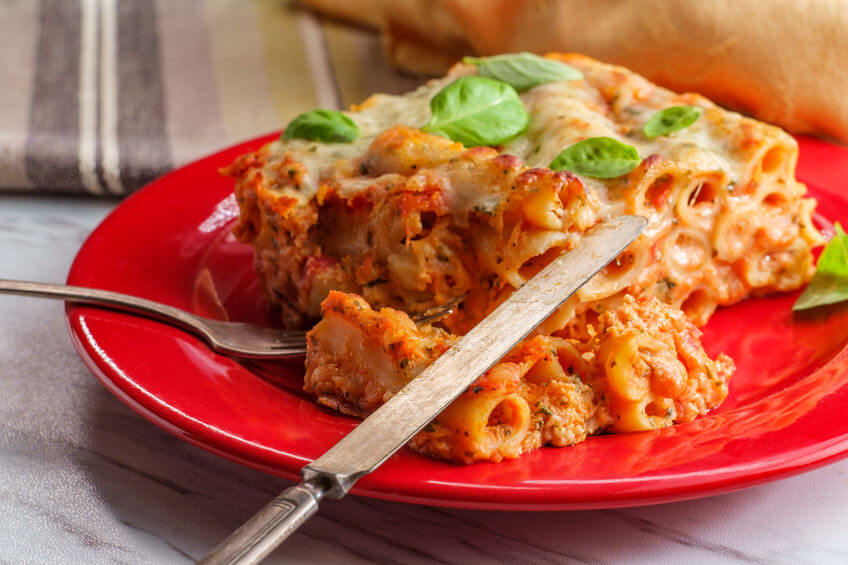 It's similar enough in texture and taste that it even works well with minimal dressing, as in pasta aglio e olio (i.e., garlic and olive oil).
Conclusion
For the average person, choosing between cauliflower pasta vs regular pasta is going to be more or less a toss-up.
If you can find a product where cauliflower is the main ingredient, you'll likely save a bit on calories and carbs, and you'll ostensibly add some veggies to any pasta dish.
As for those with Celiac disease or some form of gluten-intolerance, cauliflower pasta is a great option to live out comfort food fantasies sans the gut-wrenching gluten found in wheat pastas.