This article was verified for accuracy by Stephanie Wells, MS, RD, ACSM-CPT on March 14th, 2023
Flour is an essential ingredient in countless recipes, but it's not always created from the same source. Flour can be made from various food items, and the nutrition contents of each can vary by a wide margin. One example of such would be carbohydrates. In this article, we'll be comparing 18 different flour types and ranking them by the lowest-carb flour.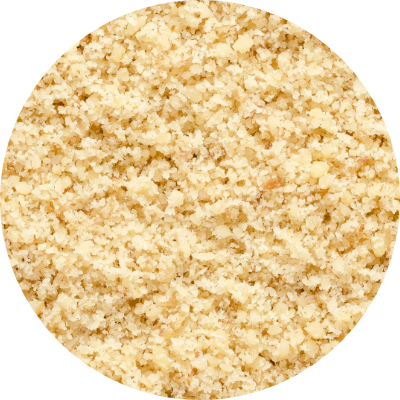 Walnut Flour
As it turns out, the lowest-carb flour is walnut flour, which contains 5.9 grams of carbohydrates per 1/2 cup serving. Made from chopped walnuts, walnut flour is also gluten-free, grain-free, and tends to work best in recipes for baked goods.
Continue on to see the various types of flour alternatives and how they compare nutritionally.
Lowest-Carb Flour Rankings
Following a low-carb diet isn't always easy– especially if you're into sweets and baked goods. Many recipes call for flour in some capacity, and regular wheat-based flour certainly packs its share of carbohydrates. Just a single 1/2 cup serving of all-purpose white flour contains:
Calories: 240
Carbohydrates: 48g
Fiber: 2g
Fat: 1g
Protein: 8g
A typical low-carb diet contains between 20 to 57 grams of carbohydrates per day, says Mayo Clinic. This makes flour a difficult food to incorporate into a low-carb diet because it only takes a single serving of it to reach or exceed this range.
Flour is made from wheat, which is a carb-heavy food, but many flour alternatives are not made from wheat. Let's have a look at some of them.
The table below compares the nutrition facts of 18 different types of flour. They are ranked by lowest-carb flour to highest:
Sources linked in item names.
As you can see, many wheat-free flour alternatives are not lower in carbohydrates than all-purpose white flour. For example, brown rice flour, tapioca, and cassava all contain more carbs per serving than wheat flour.
That said, there are plenty of lower-carb options to choose from atop our list. Let's have a closer look.
Walnut Flour: The Fewest Carbohydrates
Topping our rankings of lowest-carb flour would be the walnut variety, which contains 5.9 grams of carbohydrates per 1/2 cup serving.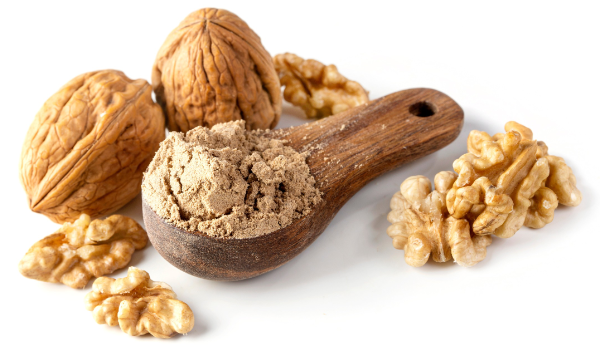 Walnut flour is made from walnuts that have been chopped and ground into a fine flour. It can be used in a variety of ways, including:
Stirred into hot cereals.
Toasted and sprinkled over oatmeal.
As a 30% replacement to wheat flour, which adds a rich, buttery flavor.
It can also be used to make:
Banana bread
Lemon pound cake
Biscuits
Stuffing
Walnut flour can also be used as a substitute to almond flour as they have similar properties. That said, walnut flour typically does not work well as a 1:1 substitute for wheat flour as it can affect density, texture and moisture differently.
The Fewest Net Carbs
Not only does walnut flour contain the fewest carbohydrates, but it's also lowest in net carbohydrates.
Net carbs are what you get when you subtract fiber grams from carbohydrate grams. Although "net carbohydrates" are not acknowledged by the FDA or American Diabetes Association, we have included them in our rankings for those who may be seeking this information.
The Runner-Ups
Carbohydrate content can vary quite a bit between flour alternatives, but when it comes to the lowest-carb flour, hazelnut only wins by a small margin. Honorable mentions include:
Hazelnut flour, made from raw ground hazelnuts and contains only 10g of carbs per 1/2 cup serving.
Peanut flour, which contains only 0.5 more grams of carbohydrates per serving than hazelnut flour, despite having significantly fewer calories.
Almond flour, which contains 12 grams of carbohydrates per serving.
Sunflower seed flour, which contains 14 grams of carbohydrates per serving– less than one-third of that found in all-purpose white flour.
The Bottom Line
If you're looking to cut back on the carbs then wheat-based flour products, such as all-purpose wheat flour, will pose a challenge as they come with plenty of carbohydrates. Although lower-carb options exist, they cannot always be used in the same ways that regular wheat-based flour is. That doesn't mean they can't hold a special place in your kitchen though!