Much like other nut butter alternatives, pistachio butter is a delicious, nutritious treat that can be used in a variety of snacks and meals. Not only is it packed with protein and zinc, but it also adds a sweet, savory spin to many dishes. From cookies to salads and parfaits, there are so many uses for pistachio butter.
For a look at some of our favorite ideas, check out the list below:
Delicious Breakfast Recipes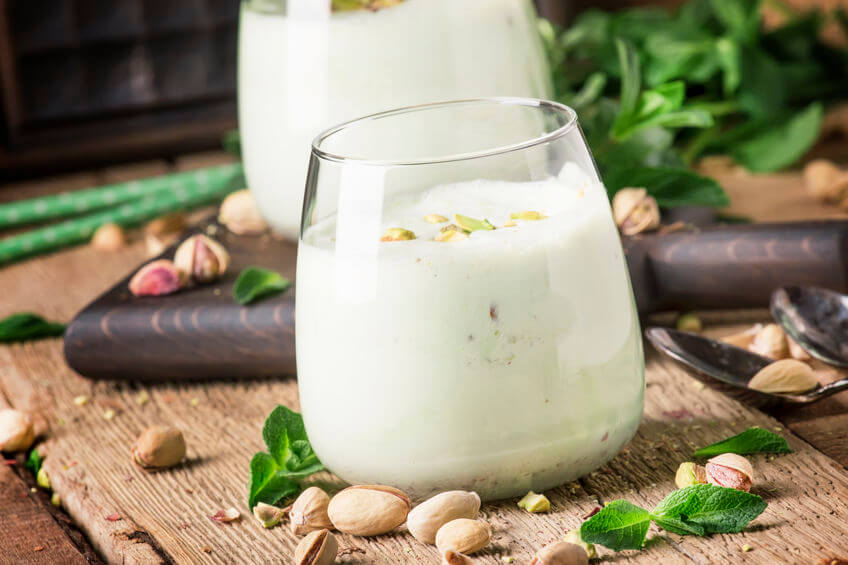 1. Overnight Oats
Healthy, filling, and energizing, oatmeal is a great way to start the day. What can make it even better? Pistachio butter!
For this recipe, all you'll need is some oatmeal, your nut butter, fruit, and a nondairy milk of your choice.
Mix them all together in a mason jar and put that jar in the fridge overnight. Then in the morning, you'll have a tasty breakfast to enjoy at home or on the go.
2. Soothing Lattes
One of the most unique uses for pistachio butter is as a mix-in for a latte.
This fun, green beverage is bound to give you a caffeine boost with plenty of nutrients to boot.
While some recipes use pistachio syrup instead, the end result isn't nearly as creamy. So, we suggest you stock up on your pistachio butter, pick your favorite mug, and get to brewing
3. Smoothies
Whether you're getting ready for a workout or going outside on a hot day, few things are more delicious than a smoothie.
And when it comes to the tastiest smoothies, pistachio butter is the perfect choice.
All you need to do is combine the fruit and nondairy milk you would normally use and then add a dollop of pistachio butter. Your smoothie will be even richer, creamier, and healthier than ever before.
Decadent Desserts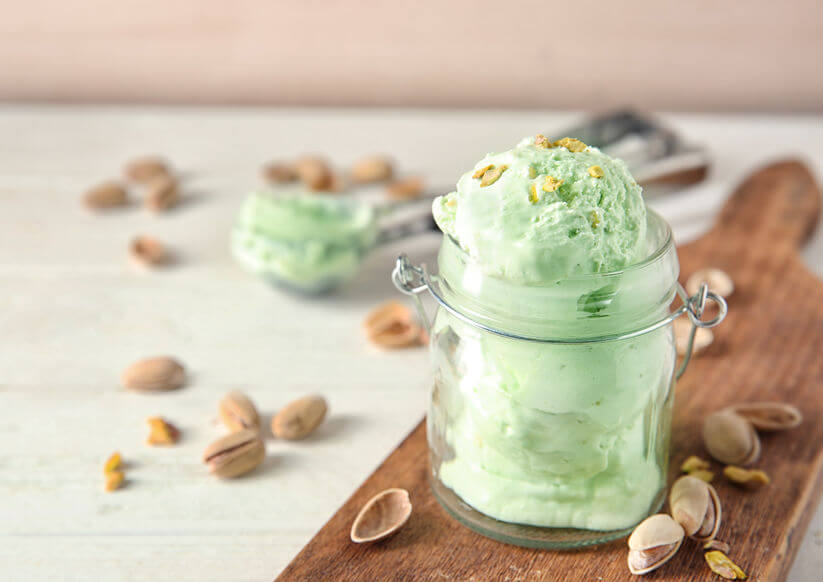 4. Cookies
You've probably enjoyed peanut butter or walnut cookies before, but did you know you can also make cookies with pistachio butter?
There are a variety of recipes to try out, each offering a unique take on the classic dessert. And if you're feeling crafty, add your own spin with additional nuts and nut butters.
5. Chia Pudding
If you want to make pistachio butter even healthier, chia pudding is the way to go.
Filled with omega-rich chia seeds and heart-healthy coconut, this dessert won't just taste good; it'll make you feel good.
6. Sweet, Savory Ice Cream
Pistachio ice cream is a sweet and delightful dessert. It's especially fun to make for green-themed holidays, like St. Patrick's Day, but you can have it any time of year.
Just make sure to give yourself plenty of time to mix and freeze your ingredients!
7. Add Some Syrup
Let's say you already have some ice cream in your freezer and you're looking for something to add to it.
Fortunately, pistachio butter doesn't just make a good ice cream flavor; it's also a fantastic topping.
In order to make pistachio syrup, you simply need to melt down your nut butter and drizzle it over your ice cream.
And if you put it back in the freezer, it'll freeze into a shell, creating a fun outer coating for your dessert.
8. Cake
We couldn't have a list of uses for pistachio butter without mentioning cake!
You can mix pistachio butter with a variety of flavors, including chocolate, vanilla, and even rose petals.
Just follow this recipe and you'll have a fantastic dessert for birthdays, parties, or just because!
Mid-day Snacks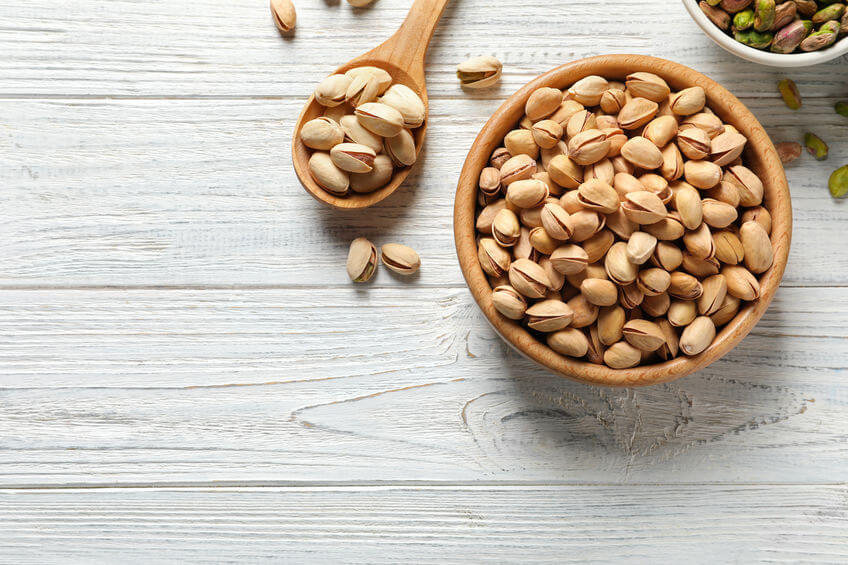 9. Parfaits
If you're in the mood for a simple snack, look no further than pistachio butter parfaits.
These parfaits use similar ingredients to overnight oats, but instead of oats and nondairy milk, try vegan Greek yogurt and a sweetener, such as agave.
You can even add granola, sunflower seeds, or pumpkin seeds for an extra special snack.
10. Pistachio Butter Cups
Similar to peanut butter cups, pistachio butter cups have all the deliciousness of nut butter and chocolate combined.
The only ingredients you need are vegan dark chocolate chips, coconut oil, sea salt, and, of course, your pistachio butter.
For an extra kick, add some shelled pistachios, which make for an eye-catching and tasty topping.
11. Energy Balls
Need a snack for on-the-go? Then these pistachio energy balls are for you.
Tasty, easy to make, and easy to transport, they'll provide you with the energy you need and the taste you desire to tackle the day.
Lunch and Dinner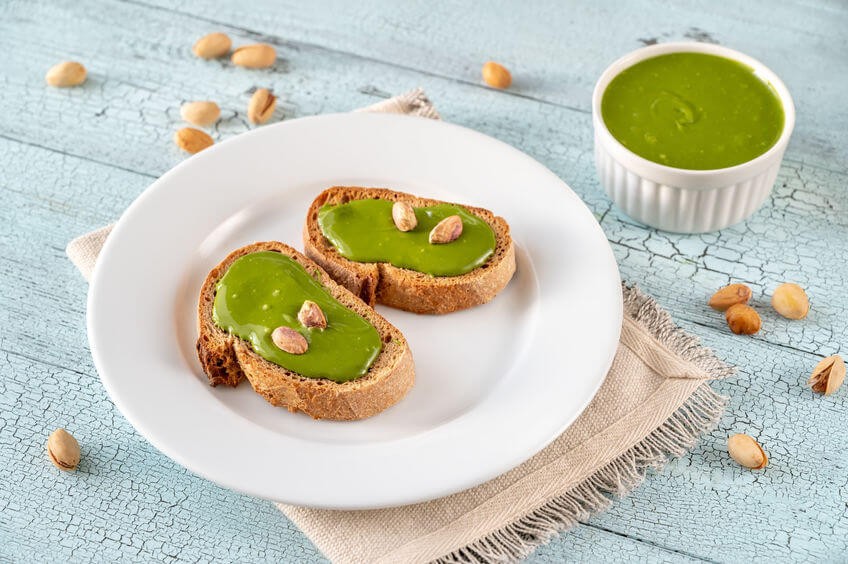 12. Nut Butter on Toast
This is one of the easiest uses for pistachio butter: all it requires is bread and a toaster.
Toast your bread, slather on some pistachio butter, and just like that, lunch is served!
If you want to take things to the next level, try spreading a different nut butter on a second slice and eating the two pieces together.
13. Unique Salads and Dressings
You might have tried pistachios in salad before, and pistachio butter makes an equally good substitute (or better!)
Pistachios tend to go especially well with beets, which is why you'll find a variety of recipes for pistachio beet salads.
But if you want to use different ingredients, you can also make a dressing out of your nut butter and drizzle it over the greens of your choosing.
14. Pasta (No, Seriously)
Pistachios and pasta might not make a lot of sense at first, but when you see this recipe, you'll understand just how well they go together.
Just make sure to use vegan butter and skip out on the parmesan cheese.
Other Uses for Pistachio Butter
So Many More Options!
Of course, there are far more uses for pistachio butter than we can possibly list in this article.
You can smear pistachio butter on a bagel, cracker, anything really!
If you prefer something salty, pistachio butter pairs well with pretzels, and for an extra sweet experience, you can put it directly on strawberries or other fruit.
Pistachio butter is a delight on its own, but thanks to the recipes above, you'll find even more ways to enjoy it. With so many options, your next move is easy: try them out and pick your favorite!